Discover the DreamPrep™ NAP featuring Zymo Research workstation and jump start your nucleic acid processing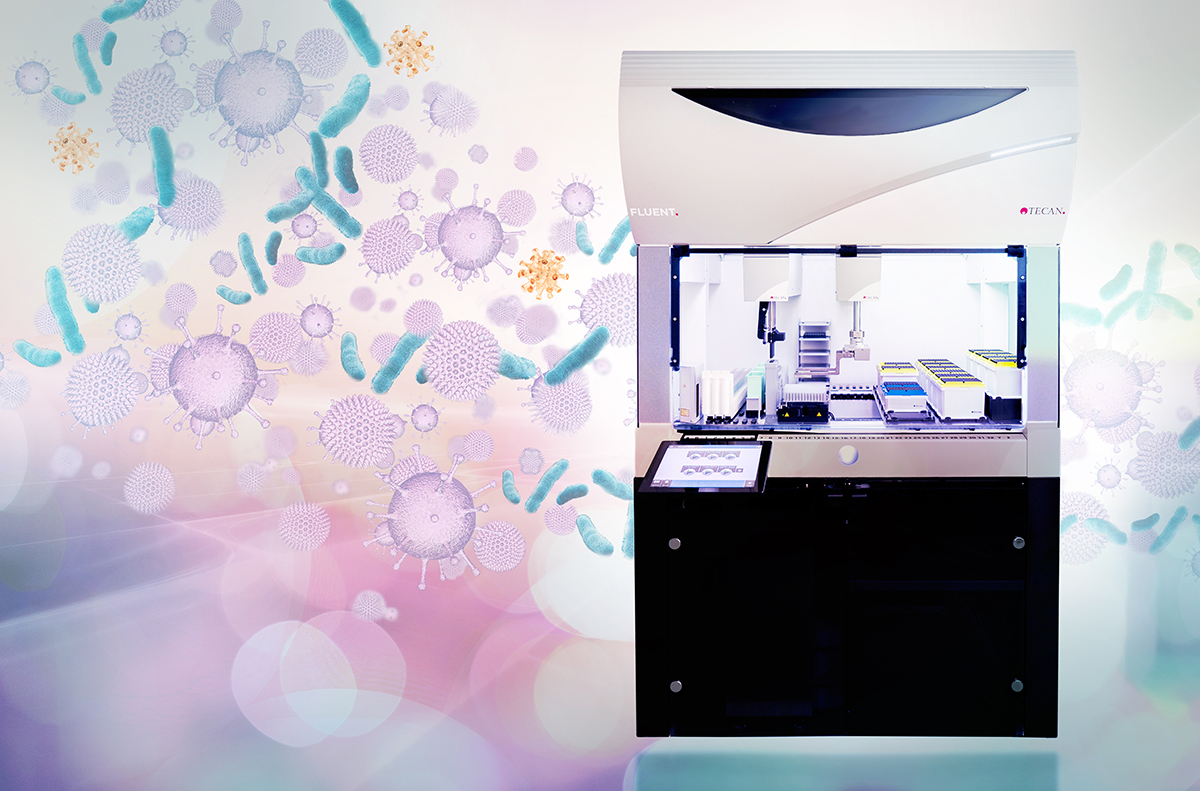 IRVINE, Calif., (Feb. 3, 2020) — Tecan's new DreamPrep NAP workstation is designed to simplify your nucleic acid extraction workflows. Tecan has collaborated closely with Zymo Research to offer a ready-to-go processing solution for the ZymoBIOMICS™ 96 MagBead DNA Kit, including walkaway quantification and normalization with an on-board Infinite® 200 PRO reader.
The DreamPrep NAP featuring Zymo Research platform provides flexible processing of virtually any magnetic bead-based extraction workflow, and has been preconfigured, preprogrammed and optimized for Zymo Research kits. Based on the Fluent® 480 Automation Workstation, this system offers efficient, unbiased lysis to generate high quality nucleic acid samples ready for immediate microbiome or metagenome analysis to reveal the true composition of your samples.
To help you get the most out of your system, it is supplied with both Tecan Connect™ – allowing you to monitor your instrument on your smartphone – and Introspect™, which automatically gathers instrument runtime, reagent and consumables usage and error rate data. These cloud-based software solutions provide valuable insights on your instrument management and availability, helping you to shape your future laboratory automation.
Luca Valeggia, Vice President of Laboratory Automation and Consumables at Tecan, commented: "We are very excited about the launch of these latest innovations at SLAS2020. This combination of DreamPrep NAP, Tecan Connect and Introspect exemplifies our vision for the future of laboratory automation – providing not just liquid handling and analytical solutions, but digital insights and empowerment. Our goal is for you to let DreamPrep NAP work for you, while you plan your next experiment."
To learn more about DreamPrep NAP and Tecan's digital laboratory strategy at SLAS2020, visit Booth #1119 or join the press conference in Room 16B on Monday January 27th at 11 am, where the Tecan team will be discussing these exciting advancements. You can also visit www.tecan.com/dreamprep-nap-workstation.
For research use only. Not for use in clinical diagnostics.
About Tecan
Tecan (www.tecan.com) is a leading global provider of laboratory instruments and solutions in biopharmaceuticals, forensics and clinical diagnostics. The company specializes in the development, production and distribution of automated workflow solutions for laboratories in the life sciences sector. Its clients include pharmaceutical and biotechnology companies, university research departments, forensic and diagnostic laboratories. As an original equipment manufacturer (OEM), Tecan is also a leader in developing and manufacturing OEM instruments and components that are then distributed by partner companies. Founded in Switzerland in 1980, the company has manufacturing, research and development sites in both Europe and North America and maintains a sales and service network in 52 countries. In 2018, Tecan generated sales of CHF 594 million (USD 606 million; EUR 516 million). Registered shares of Tecan Group are traded on the SIX Swiss Exchange (TECN; ISIN CH0012100191).
Über Tecan
Tecan (www.tecan.com) ist ein weltweit führender Anbieter von Laborinstrumenten und Lösungen für die Branchen Biopharma, Forensik und Klinische Diagnostik. Das Unternehmen ist auf Entwicklung, Herstellung und Vertrieb von Automatisierungslösungen für Laboratorien im Life-Science-Bereich spezialisiert. Die Kunden von Tecan sind Pharma- und Biotechnologieunternehmen, Forschungs-abteilungen von Universitäten sowie forensische und diagnostische Laboratorien. Als Originalgeräte-hersteller (OEM) ist Tecan auch führend in der Entwicklung und Herstellung von OEM-Instrumenten und Komponenten, die vom jeweiligen Partnerunternehmen vertrieben werden. Tecan wurde 1980 in der Schweiz gegründet. Das Unternehmen verfügt über Produktions-, Forschungs- und Entwicklungs-stätten in Europa und in Nordamerika. In 52 Ländern unterhält es ein Vertriebs- und Servicenetz. Im Jahr 2016 erzielte Tecan einen Umsatz von CHF 594 Mio. (USD 606 Mio.; EUR 516 Mio.). Die Namenaktien der Tecan Group werden an der SIX Swiss Exchange gehandelt (TECN; ISIN CH0012100191).