Dr. Jonathan Eisen Joins Zymo Research Corp.'s Scientific Advisory Board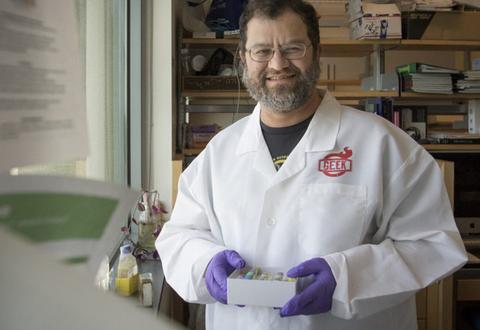 IRVINE, Calif., Nov. 14, 2017 /PRNewswire/ - The Zymo Research Corp. Board of Directors has announced the appointment of Dr. Jonathan Eisen, Biologist, to its Scientific Advisory Board, effective immediately.
Dr. Jonathan Andrew Eisen currently works at the University of California, Davis. He holds appointments in the Department of Evolution and Ecology in the College of Biological Sciences and in the Department of Medical Microbiology and Immunology in the School of Medicine. Dr. Eisen's lab is located at the UC Davis Genome Center. His areas of expertise include evolutionary biology, genomics, microbiology and computational biology. He has been actively involved in the "open science" movement especially in the move towards more "open access" publishing. In addition, he is an active and award-winning science communicator.
Dr. Eisen received an A.B. degree in Biology from Harvard College in 1990 where he worked on microbial symbioses; and, he received his doctorate in Biological Sciences from Stanford University in 1998 where he worked on the evolution of DNA repair. He has published more than 300 scientific articles, is one of the most highly cited researchers in microbiology and microbial ecology, and is a member of the American Academy of Microbiology. Prior to joining UC Davis he worked as an Investigator at The Institute for Genomic Research in Rockville, MD and held an Adjunct Faculty appointment at Johns Hopkins University.
"I am excited to be an advisor to Zymo Research especially as they move more and more into the microbiome space," said Eisen. "There are so many tools and resources that could benefit the broader scientific community and I hope to help guide Zymo Research in their developments in this area."
"Dr. Eisen is an accomplished scientific leader," said Dr. Larry Jia, Founder and Director of Zymo Research Corp. "We are confident that he will add great value to our Scientific Advisory Board and that Zymo Research Corp. will benefit from his insights, scientific acumen, and expertise in the microbiomic community."
With the appointment of Dr. Eisen, Zymo Research's Scientific Advisory Board consists of five members, including Peter Jones, Ph.D., D.Sc. Director of Research, Chief Scientific Officer, Van Andel Institute; Dr. Steven Jacobsen, Professor, University of California-Los Angeles; Dr. Alexander Meissner, Associate Professor, Harvard University, and Dr. Martin Schwemmle, Professor, University of Freiburg, Germany.
For more information about Zymo Research's products, go to Zymo Research's website or email info@zymoresearch.com.For more information about Dr. Jonathan Eisen, please see his website, https://phylogenomics.blogspot.com/, his Twitter feed: https://twitter.com/phylogenomics and the website he runs: https://microBE.net.
About Zymo Research Corp.
Zymo Research Corp., also known as "The Epigenetics Company", is a privately held company based in Irvine, California, US. Since its inception in 1994, it has been serving the academic and biopharmaceutical scientific communities by providing DNA and RNA purification products. Zymo Research was an early adopter in the field of epigenetics and offers a line of products used in DNA methylation detection and quantitation. In addition to the epigenetic and nucleic acid purification products, Zymo also provides genetic, epigenetic and transcriptome analysis services. For more information, please visit www.zymoresearch.com/epigenetics. Follow Zymo Research Corp. on Facebook , LinkedIn, Twitter, and Instagram.
Trademarks:
All trademarks are the property of their respective owners. The Zymo Research Corp. trademark, with its design elements including the stylized three-shaded ovals (budding yeast), and the words "The Beauty of Science is to Make Things Simple," is a registered trademark of Zymo Research Corp.