Zymo Research and CosmosID announce their partnership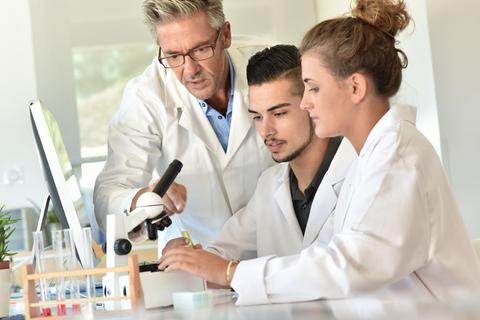 IRVINE, Calif., June 7, 2018 /PRNewswire/ - Zymo Research and CosmosID announce their partnership to provide microbiome researchers with an integrated end-to-end solution for accurate microbiome analysis. The partnership combines Zymo Research's complete microbiomics product portfolio from sample collection/preservation, mock microbial community standards, nucleic acid isolation, and library preparation with the largest curated microbiome database maintained and powered by CosmosID. The combined technologies of both companies allow for comprehensive and simple service for multi-kingdom microbiome analysis, not limiting the identification to only bacterial constituents of microbial communities, but also covering other microbial kingdoms such as fungi.
Manoj Dadlani, CEO of CosmosID said in a statement, "The partnership between CosmosID and Zymo Research is a perfect match for our customers. CosmosID is powered by the largest database of microbial genome information which enables strain level resolution of bacteria, archaea, protists, fungi, viruses and even unknown microorganisms and Zymo Research's pipeline has proven it can consistently prepare samples that accurately reflect microbial compositions."
Ryan Kemp, Director of Nucleic Acid Solutions at Zymo Research, commented, "The synergy of this partnership is very exciting because of the tremendous value we collectively bring to our customers by combining Zymo Research's portfolio of products designed from collection to conclusion for accurate and reproducible microbiome measurements with CosmosID's multi-kingdom strain-level resolution and industry-leading sensitivity and precision. Combined, our metagenomics solution has become both the most powerful and simplest collection-to-conclusion solution available."
As a part of the first stage of the partnership, CosmosID and Zymo Research are tackling the challenge of bias and irreproducibility in the field of microbiomics head-on. Microbial composition profiling powered by Next-Generation sequencing has become routine, however, these techniques are complex and can suffer from significant bias from collection to analysis. By adding defined and controlled Microbial Community Standards to a workflow or even within microbiome samples, researchers can assess, improve, and compare bias and errors in the metagenomics workflow.
Completing the first stage of this collaboration, CosmosID will release an update to its widely used cloud-based bioinformatics platform for microbiome analysis during this year's ASM Microbe conference in Atlanta. The update introduces new, user-friendly tools to analyze internal microbiome standards from Zymo Research and to automatically assess the quality of analyzed sequence data. Data generated using the sophisticated yet streamlined pipeline for the analysis of Zymo Research microbiome standards can be conveniently interpreted – free of additional charge – via CosmosID's user-friendly Cloud-based bioinformatics platform.
About CosmosID
CosmosID®, based in Rockville, Maryland, is a genomics big data company focused on rapid identification of microorganisms for molecular diagnostics, public health, food safety, agriculture, and environmental applications. The CosmosID platform uses proprietary sequence analysis algorithms to accurately profile all microorganisms in a metagenomic sample employing next-generation DNA sequencing. CosmosID was founded in 2008 by Dr. Rita Colwell, former Director of the National Science Foundation and currently Distinguished University Professor at the University of Maryland and Johns Hopkins University Bloomberg School of Public Health. To learn more please visit www.cosmosid.com or visit us at ASM Microbe, Booth #1309, in Atlanta from June 7-11 2018.
About Zymo Research Corp.
Zymo Research Corp., also known as "The Epigenetics Company", is a privately held company based in Irvine, California, US. Since its inception in 1994, it has been serving the academic and biopharmaceutical scientific communities by providing DNA and RNA purification products. Zymo Research was an early adopter in the field of epigenetics and offers a line of products used in DNA methylation detection and quantitation. In addition to the epigenetic and nucleic acid purification products, Zymo also provides genetic, epigenetic and transcriptome analysis services. For more information, please visit www.zymoresearch.com/epigenetics. Follow Zymo Research Corp. on Facebook , LinkedIn, Twitter, and Instagram.
Trademarks:
All trademarks are the property of their respective owners. The Zymo Research Corp. trademark, with its design elements including the stylized three-shaded ovals (budding yeast), and the words "The Beauty of Science is to Make Things Simple," is a registered trademark of Zymo Research Corp.