Nucleic Acid Purification Kits Now Available on Amazon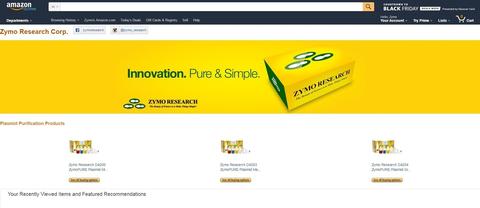 IRVINE, Calif., Nov. 14, 2016 PRNewswire - Zymo Research Corp. announced today that its nucleic acid purification products are available for purchase on Amazon.com. Best-selling products, such as Direct-zol, ZymoPURE, Quick-DNA, Quick-RNA, and Zymoclean, to name a few, will be available to Amazon Business customers. The Zymo Research product page can be accessed using the following link: www.amazon.com/zymo.
Dr. Graham Threadgill, Vice President of Global Marketing at Zymo Research explains, "Zymo Research is all about efficiency for our customers. Our products are designed to be fast, effective and simple to use. We wanted to extend this philosophy by making our products easier to order. Amazon's Industrial & Scientific department is the perfect place, adding another dimension of simplicity for Zymo Research customers."
Zymo's customers can take advantage of Free Two-Day Shipping on eligible orders of $49.00 through Amazon Business. The Industrial & Scientific department on Amazon.com makes it easy for researchers or purchasing agents to order their reagents and supplies from one place versus having to log on to multiple sites. In addition, Zymo customers can benefit by signing up for an Amazon Business account, which includes unique offers for Zymo products that are only redeemable on Amazon.com. Zymo's products are drop-shipped from their California facility using Amazon's fulfillment services.
About Zymo Research Corp.
Zymo Research Corp., also known as "The Epigenetics Company", is a privately held company based in Irvine, California, US. Since its inception in 1994, it has been serving the academic and biopharmaceutical scientific communities by providing DNA and RNA purification products. Zymo Research was an early adopter in the field of epigenetics and offers a line of products used in DNA methylation detection and quantitation. In addition to the epigenetic and nucleic acid purification products, Zymo also provides genetic, epigenetic and transcriptome analysis services. For more information, please visit www.zymoresearch.com/epigenetics. Follow Zymo Research Corp. on Facebook , LinkedIn, Twitter, and Instagram.
Trademarks:
All trademarks are the property of their respective owners. Zymo Research Corp., the stylized logo, tagline "The Beauty of Science is to Make Things Simple", Direct-zol, Quick-DNA, Quick-RNA, Zymoclean, and ZymoPURE are trademarks of Zymo Research Corp. and are registered with the USPTO.