Zymo Research Corp. Launches 'Give Back to Science' Campaign
Reaching out to scientists around the world to provide valuable scientific resources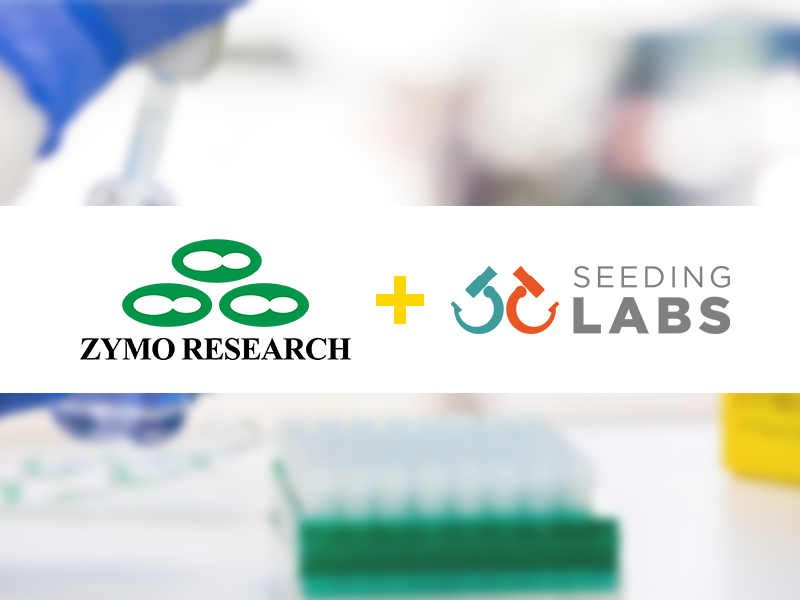 IRVINE, Calif., (Nov. 19, 2018) — Zymo Research understands that science may help solve some of the world's most pressing problems, especially in developing countries. Unfortunately, many scientists in emergent nations face barriers to accessing hands-on education, laboratory equipment, and supplies. That's why Zymo Research developed its 'Give Back to Science' campaign. From Monday, Nov. 19, 2018, to Friday, Nov. 30, 2018, Zymo Research will donate a portion of its domestic sales to Seeding Labs, a nonprofit organization based in Boston, MA, whose mission is to empower every scientist to transform the world. Since its inception in 2008, Seeding Labs' flagship program Instrumental Access has donated over 200 tons of laboratory equipment and supplies to scientists at 67 institutions in 34 developing countries.
Businesses who purchase any Zymo Research product during the two-week period will be able to support scientists in Seeding Labs' worldwide network. By giving back to the scientific community, Zymo Research will make a positive impact in the biomedical field. They believe that investing in the scientific community is a hallmark of responsible corporate citizenship. Consumers who order online at https://www.zymoresearch.com/all-products through Nov. 30, 2018, will ensure their purchase counts towards the donation goal. OEM and custom supply sales do not apply.
"Our commitment, to aid organizations like Seeding Labs helps to meet our mission to contribute to the greater good of humanity," said Dr. Marc Van Eden, Vice President of Business Development at Zymo Research. "The 'Give Back to Science' program will assist Seeding Labs to do incredibly important work, specifically in economically developing nations. We are honored to support Seeding Labs which has a stellar ten-year history of helping scientists."
"We are excited to be partnering with an organization that shares our vision of improving the world by providing scientists with the tools they need to advance life-changing research," explained Dr. Nina Dudnik, Founder and CEO of Seeding Labs. "We know that great talent is everywhere, but resources are not, and we very much appreciate Zymo Research's dedication to helping close that resource gap."
For more information about Zymo Research's 'Give Back to Science' campaign, go to Zymo Research's website or email info@zymoresearch.com.
About Zymo Research Corp.
Zymo Research Corp. is a privately held company based in Irvine, California, USA. Since its inception in 1994, it has been serving the academic and biopharmaceutical scientific communities by providing DNA and RNA purification products. Their goal is to help scientists reduce time in the lab by eliminating steps and making the entire DNA/RNA extraction process simpler and faster. In addition to their nucleic acid purification products, Zymo Research also offers genetic, epigenetic, and transcriptome analysis products and services that are high quality and simple to use yet robust in performance. Follow Zymo Research on Facebook , LinkedIn, Twitter, and Instagram.
About Seeding Labs
Seeding Labs believes that unleashing the full potential of scientists worldwide is the best hope for fighting global diseases, feeding the growing population, and protecting the planet. Its Instrumental Access program directly enables the research and discovery, teaching and learning, and institutional capacity building that are essential to solving development and global health challenges. Seeding Labs' network of scientists is working to train the next generation of innovators, improve healthcare, adapt agricultural systems to climate change, and generate clean energy. For information about donating equipment, email them at equipment@seedinglabs.org, find them on Facebook, LinkedIn, and Twitter, or visit their website.
Trademarks:
All trademarks are the property of their respective owners. The Zymo Research Corp. trademark, with its design elements including the stylized three-shaded ovals (budding yeast), and the words "The Beauty of Science is to Make Things Simple," is a registered trademark of Zymo Research Corp.
Reference Links:
https://www.zymoresearch.com/all-products
https://www.seedinglabs.org
Contributions only valid from US sales.