Zymo Research Launches Discovery Series™ Nucleic Acid Kits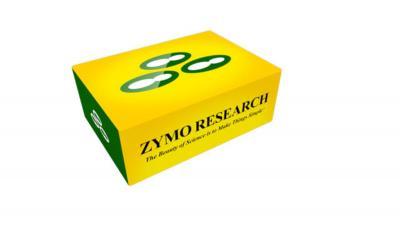 IRVINE, Calif., Feb. 28, 2017 PRNewswire - Zymo Research announces the launch of its Discovery Series™ DNA and RNA purification kits. The new product line includes eight of Zymo Research's most popular kits in a new 5- and 10-prep/reaction format. The Discovery Series™ kits are designed to maximize flexibility and provide convenience for small volume research laboratories. An average sized nucleic acid kit typically ranges from 50-800 preps. The cost of these larger sized formats, and potential for waste, may prohibit research labs that prepare a small number of nucleic acid samples from purchasing high-quality kits.
The newly configured Discovery Series™ kits contain enough components to process a maximum of 10 samples. By manufacturing these high-quality kits in a 5- and 10-prep/reaction format, Zymo Research is giving labs the convenience of purchasing the capacity that is needed for their investigations and analysis. With the launch of these kits, Zymo Research is also unveiling its new branding and packaging that reflects its core message of making the entire DNA and RNA extraction process simpler and faster.
Dr. Graham Threadgill, Vice President of Global Marketing at Zymo Research, commented, "Having nucleic acid purification and cleanup kits in a 5- and 10-prep size enables researchers, who purify a small number of samples, to avoid waste; and, also allows them to purchase top-tier kits at a price that matches their budget. We believe that our Discovery Series™ kits will also help labs in emerging markets where budgets are limited. The smaller-sized format will enable these labs to use high-quality DNA purification methods without having to make a major capital outlay."
The kits that are currently available in the Discovery Series™ format are:
For more information about Zymo Research's products, go to Zymo Research's website or email info@zymoresearch.com.
About Zymo Research Corp.
Zymo Research Corp., also known as "The Epigenetics Company", is a privately held company based in Irvine, California, US. Since its inception in 1994, it has been serving the academic and biopharmaceutical scientific communities by providing DNA and RNA purification products. Zymo Research was an early adopter in the field of epigenetics and offers a line of products used in DNA methylation detection and quantitation. In addition to the epigenetic and nucleic acid purification products, Zymo also provides genetic, epigenetic and transcriptome analysis services. For more information, please visit www.zymoresearch.com/epigenetics. Follow Zymo Research Corp. on Facebook , LinkedIn, Twitter, and Instagram.
Trademarks:
All trademarks are the property of their respective owners. Zymo Research Corp., the stylized logo, the tagline "The Beauty of Science is to Make Things Simple", Discovery Series, Zymoclean, DNA Clean & Concentrator, ZymoBIOMICS, Quick-RNA, Direct-zol, EZ DNA Methylation-Lightning, ZymoPURE, and Quick-DNA are trademarks of Zymo Research Corp. and are registered with the USPTO.