Zymo Research Launches Three Plasmid Purification Kits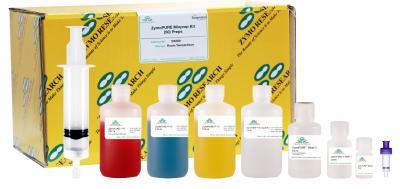 SAN DIEGO, Nov. 14, 2016 PRNewswire - Zymo Research Corp. will launch three new additions to its ZymoPURE™ line of plasmid prep products during the Society for Neuroscience Annual Meeting, Booth #129. Innovative ZymoPURE technology produces high yields of pure plasmid DNA that is extremely low in endotoxins. The kits are easy to use and provide rapid purification. The three new kits complement the existing ZymoPURE midi, maxi and gigaprep kits.
Zymo Research's ZymoPURE Plasmid Miniprep Kit yields up to 80 µg of ultra-pure and highly concentrated plasmid DNA. Eluted plasmid DNA is ready for use immediately thereby avoiding subsequent precipitation steps. Syringe filters are included for rapid lysate cleaning and the spin-column design allows the binding step to be performed using a vacuum or centrifuge. Researchers can request a sample kit via the company's website to try the product before they buy it.
Also on display at Booth #129 will be the ZymoPURE-EndoZero Kit. This kit uses a modified alkaline lysis method and a unique binding chemistry that yields highly concentrated plasmid DNA, up to 3 µg/µl. The kit includes EndoZero™ spin-columns that reduce endotoxin levels to an ultra-low level of 0.025 EU/µg of plasmid DNA, at a speed that is seven times faster than competing kits.
The third product to be launched is the ZymoPURE-Express Plasmid Midiprep Kit. The kit isolates high-quality endotoxin-free plasmid DNA directly from culture in only 15 minutes. By removing the pelleting and resuspension steps that are used in other kits, highly concentrated DNA (up to 1.5 µg/µl) can be eluted directly from the microcentrifuge column in a shorter amount of time.
For more information about Zymo Research's products, go to Zymo Research's website or email info@zymoresearch.com.
About Zymo Research Corp.
Zymo Research Corp., also known as "The Epigenetics Company", is a privately held company based in Irvine, California, US. Since its inception in 1994, it has been serving the academic and biopharmaceutical scientific communities by providing DNA and RNA purification products. Zymo Research was an early adopter in the field of epigenetics and offers a line of products used in DNA methylation detection and quantitation. In addition to the epigenetic and nucleic acid purification products, Zymo also provides genetic, epigenetic and transcriptome analysis services. For more information, please visit www.zymoresearch.com/epigenetics. Follow Zymo Research Corp. on Facebook , LinkedIn, Twitter, and Instagram.
Trademarks:
All trademarks are the property of their respective owners. Zymo Research Corporation, the stylized logo, and the tagline "The Beauty of Science is to Make Things Simple" are trademarks of Zymo Research Corporation and are registered with the USPTO.