Anti-5-Methylcytosine Monoclonal Antibody (Clone 7D21)
A3002-15 / A3002-200 / A3002-30 / A3002-50
Anti-5-Methylcytosine Monoclonal Antibody (Clone 7D21)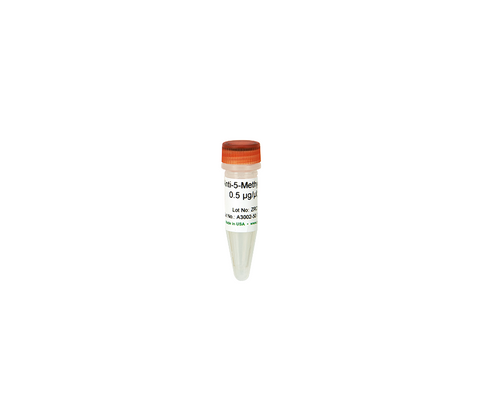 Highlights
---
Specifically binds to 5-methylcytosine in ssDNA context.
No detectable cross-reactivity with non-methylated cytosine.
Description
---
The mouse Anti-5-Methylcytosine Monoclonal Antibody specifically recognizes methylated cytosines. The antibody binds to 5-mC in single-stranded DNA, with no detectable cross-reactivity to non-methylated or hydoxymethylated cytosines. This product is ideal for immuno-based assays such as methylated DNA Immunoprecipitation (MeDIP), ELISA and dot blot.
---
| | |
| --- | --- |
| Buffer Solution | Antibody is provided in PBS (Phosphate Buffered Saline, pH 7.4) with 0.05% Sodium azide as a preservative. |
| Clone | 7D21 |
| Isotype | IgG1 (κ light chain) |
| Protein Concentration | 0.5 µg/µl |
| Source | Mouse |
| Specificity | 5-Methylcytosine in single-stranded DNA from any source including human, rat, mouse, plants, etc. |
| Storage | Store at -20°C with prolonged storage at -80°C. Avoid repeated freeze/thaws. |