ZR Plasmid Miniprep - Classic
D4054 / D4015 / D4016
ZR Plasmid Miniprep - Classic
| Cat # | Name | Size | Price | Quantity |
| --- | --- | --- | --- | --- |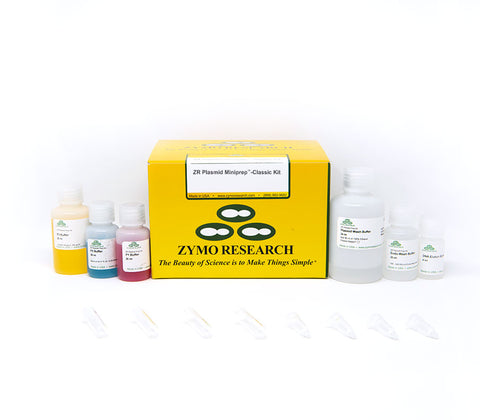 Highlights
---
High Purity: Eluted plasmid DNA is high quality, endotoxin-free and ready for all sensitive downstream applications including transfections and sequencing.
Colored Buffers: P1, P2, and P3 buffers are colored for easy visualization of complete lysis and neutralization.
Unique column design: Zero buffer retention and low (30 µl) elution volume.
Description
---
The ZR Plasmid Miniprep-Classic is designed for efficient isolation of plasmid DNA from E. coli using a traditional 3-buffer (P1, P2, P3) procedure that is simple, rapid, and reliable. It features a modified alkaline lysis protocol together with Zymo-Spin technology to yield high quality plasmid DNA in minutes. The buffers are color-coded (red, green, yellow) for easy visualization of complete cell lysis and neutralization. The innovative Zymo-Spin llN columns yield transfection-grade plasmid DNA. Plasmid DNA purified using the ZR Plasmid Miniprep-Classic is well suited for use in restriction endonuclease digestion, sequencing, DNA ligation, cloning, PCR, bacterial transformation, transfection, etc.
---
| | |
| --- | --- |
| Applicable For | Ligation, sequencing, restriction endonuclease digestion, in vitro transcription, transfections, and other sensitive applications. |
| Elution Volume | ≥ 30 µl |
| Endotoxin Levels | < 50 EU/µg |
| Equipment | Microcentrifuge |
| Processing Time | 15 min |
| Purity | Typical Abs260/280 ≥1.8. |
| Size Range | Up to 25 kb |
| Supplemental Info | |
| Yield | Up to 25 µg per preparation, depending on the plasmid copy number, culture growth conditions, and strain of E. Coli utilized. |
---
Q1: What is the difference between the ZymoPURE Miniprep Kit and the ZR Plasmid Miniprep – Classic?
The ZymoPURE Miniprep kit utilizes a modified alkaline lysis system in conjunction with a novel binding system. This results in higher yields, higher concentrations, and lower endotoxin levels when compared to the ZR Plasmid Miniprep-Classic.
Q2: Can the kit be used to isolate large constructs (BAC/PAC)?
No, we recommend using our ZR BAC DNA Miniprep Kit (D4048) or ZymoPURE Miniprep Kit for isolating large constructs.
Q3: Can the purified plasmid be transfected into eukaryotic cell lines (i.e. Is it transfection grade)?
Yes, all our plasmid preps have an endo-wash step to remove endotoxins and produce plasmid DNA that is ready for transfection with most cell lines.
Q4: What is the composition of the DNA Elution buffer?
10 mM Tris-HCl, 0.1 mM EDTA, pH 8.5.
Q5: Can I perform the procedure using a vacuum manifold?
Yes, but we recommend performing a dry spin in the microcentrifuge after the last wash step, prior to the elution step.
Q6: I ran out of Plasmid Wash Buffer. Can I substitute it with a homemade solution or Wash Buffer from another kit?
Plasmid Wash Buffer is available for purchase, separately. However, you can substitute with DNA Wash Buffer, Zyppy Wash Buffer, or 80% ethanol.
Q7: What are the endotoxin levels in plasmid DNA isolated using the ZR-Plasmid Miniprep Classic Kit?
≤ 50 Endotoxin Units/µg of plasmid DNA.
Q8: I accidently left my P3 Buffer at room temperature, is it still okay to use?
Yes, the RNase A is fairly stable at room temperature, but we recommend placing it in 4 °C as soon as possible to ensure optimal performance throughout the life span of the product.
---
Cat #
Name
Size
Price
D3004-4-16
DNA Elution Buffer
16 ml
$19.80
D4036-3-60
Endo-Wash Buffer
60 ml
$37.40
D4036-3-30
Endo-Wash Buffer
30 ml
$19.80
D3004-4-4
DNA Elution Buffer
4 ml
$11.00
D4027-1-160
Buffer P1 (Red)
160 ml
$28.60
D4027-1-20
Buffer P1 (Red)
20 ml
$16.50
D4027-1-80
Buffer P1 (Red)
80 ml
$23.10
D4027-2-160
Buffer P2 (Green)
160 ml
$28.60
D4027-2-20
Buffer P2 (Green)
20 ml
$16.50
D4027-2-80
Buffer P2 (Green)
80 ml
$23.10
D4027-3-220
Buffer P3 (Yellow)
220 ml
$48.40
D4027-3-50
Buffer P3 (Yellow)
50 ml
$19.80
D4027-4-24
Plasmid Wash Buffer
24 ml
$38.50
D4027-4-48
Plasmid Wash Buffer
48 ml
$53.90
D4027-4-6
Plasmid Wash Buffer
6 ml
$11.00
C1001-50
Collection Tubes
50 Pack
$16.50
C1019-50
Zymo-Spin IIN Columns
50 Pack
$59.40