Zymoclean Gel DNA Recovery Kit
D4001 / D4001T / D4002 / D4007 / D4008
| Cat # | Name | Size | Price | Quantity |
| --- | --- | --- | --- | --- |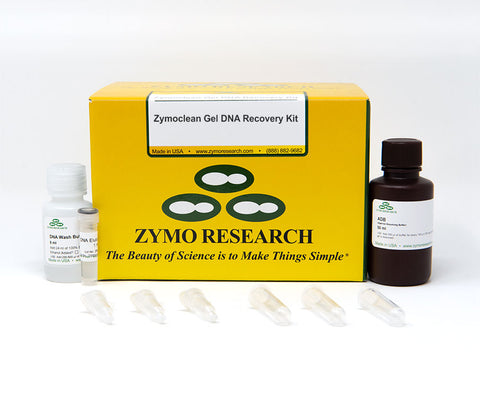 Highlights
---
Quick recovery of ultra-pure DNA from agarose gels.
Column design permits DNA elution at high concentrations into minimal volumes.
Eluted DNA is well-suited for use in DNA ligation, sequencing, labeling, PCR, etc.
Description
---
The Zymoclean Gel DNA Recovery Kit is a gel DNA extraction kit that provides rapid purification of high quality DNA from TAE/TBE-buffered agarose gels. This gel DNA extraction kit features Zymo-Spin technology to yield high-quality, purified DNA in just minutes. DNA purified using the Zymoclean Gel DNA Recovery kits is perfectly suited for use in DNA ligation reactions, sequencing, DNA labeling reactions, PCR, etc.
---
| | |
| --- | --- |
| Applicable For | Next Generation sequencing, ligation reactions, PCR, labeling, and restriction endonuclease digestions. |
| Elution Volume | ≥ 6 µl of DNA Elution Buffer |
| Equipment | Microcentrifuge |
| Purity | A260/A280 >1.8, A260/A230>1.8 |
| Sample Source | DNA excised from TAE/TBE-buffered agarose gels. |
| Size Range | 50 bp to 23 kb |
| Supplemental Info | |
| Yield | Typically, up to 5 µg total DNA per column can be eluted with ≥6 µl water. For DNA 50 bp to 10 kb the recovery is 70-90%. For DNA 11 kb to 23 kb the recovery is 50-70% |
---
"The best advantage about this kit is that it is really quick to make it, and the total DNA recuperated have a good quality and it have a good concentration to follow the experiments."
- Ingrid M.
"The kit was very easy to follow and yielded good results. It was more affordable than the Qiagen Gel Extraction kits, but worked just as efficiently. Solid product"
- Thomas B (University of Tennessee, Knoxville)
"Protocols are very well written and Instructions easy to follow. Always had good results with your products."
- Simin H. (University of California, Irvine)
Read More
---
Cat #
Name
Size
Price
C1001-50
Collection Tubes
50 Pack
$16.50
C1004-50
Zymo-Spin IC Columns
50 Pack
$58.30
C1003-50
Zymo-Spin I Columns
50 Pack
$55.00
D3004-4-4
DNA Elution Buffer
4 ml
$11.00
D3004-4-1
DNA Elution Buffer
1 ml
$12.10
D4003-2-6
DNA Wash Buffer (Concentrate)
6 ml
$11.00
D4001-1-100
ADB (Agarose Dissolving Buffer)
100 ml
$69.30
D4001-1-50
ADB (Agarose Dissolving Buffer)
50 ml
$36.30
D4003-2-24
DNA Wash Buffer (Concentrate)
24 ml
$36.30