Are Saliva Tests as Effective as Nasal Swabs at Detecting COVID-19?
Find Out Which Is Best for Your Needs
With COVID-19 cases rising and new variants emerging, demand for testing remains high. The persistent demand for COVID-19 tests has caused global shortages in swabs and personal protective equipment (PPE), which must be worn by those who collect swab samples. These shortages have forced public health officials to pivot towards alternative testing methods.1,2 Although antigen tests, also known as "rapid tests," are available, they have their drawbacks. Antibody detection from a blood sample cannot be used to detect active infections, and rapid antigen tests are generally not as sensitive as swab-based tests that use real time reverse transcription polymerase chain reaction (PCR) or other forms of nucleic acid amplification.3,4 Saliva, by contrast, is gaining popularity as a swab alternative because it is easy to self-collect and less prone to supply chain disruptions. Yet one question remains: Are saliva tests as effective as nasal swabs at detecting COVID-19?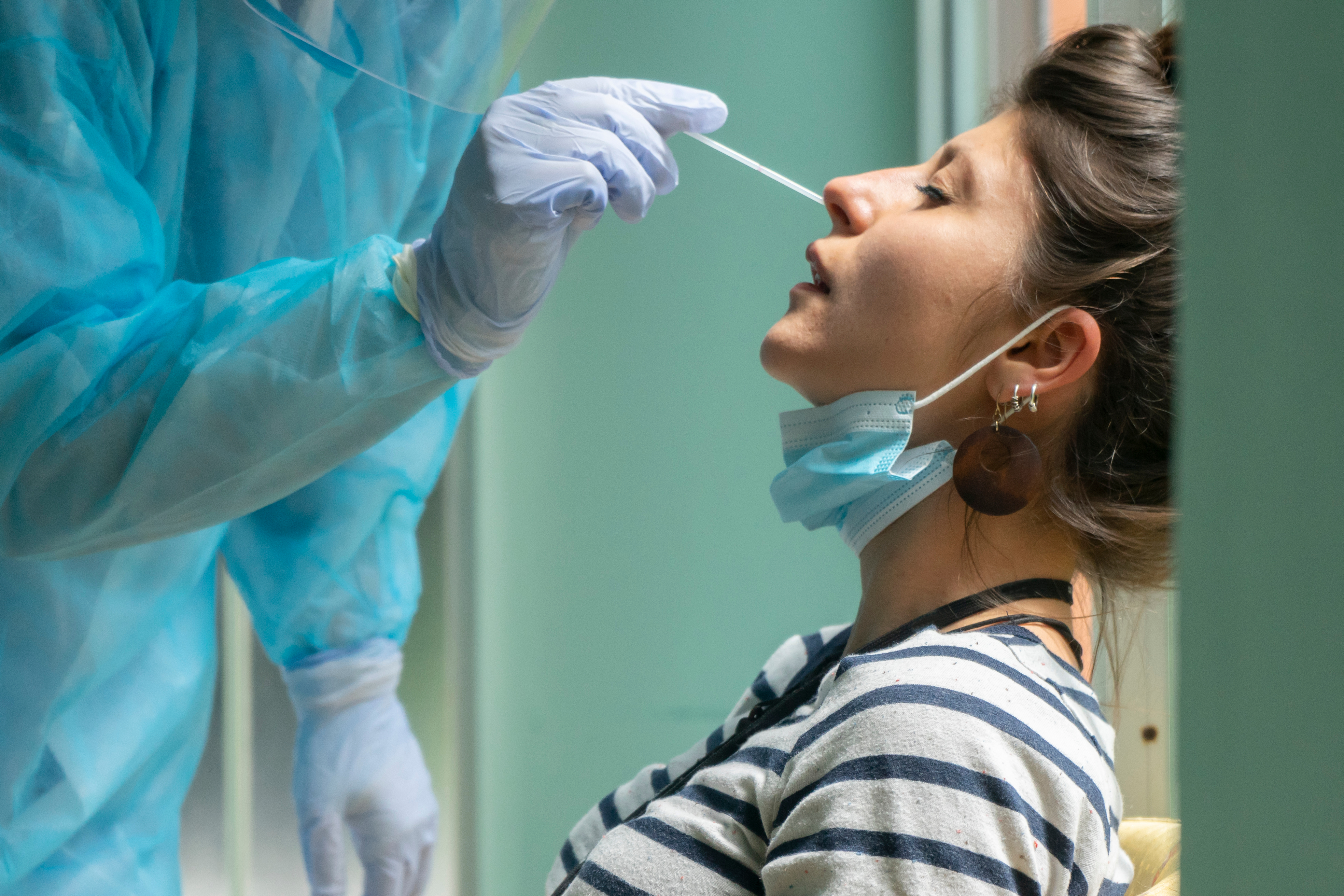 Considerations for Using Swab-based COVID-19 Tests
Swab-based testing is considered the gold standard for COVID-19 detection. Initially validated by the CDC as one of the first COVID-19 sample collecting methods, many people who have received a deep nasal (nasopharyngeal) swab remember the discomforting and invasive experience as one that "engender[s] visceral dislike,"5 causing fits of coughing, sneezing, and sometimes even a bloody nose. Deep nasal swabs are particularly uncomfortable and traumatizing for children. Although many online articles6,7 offer solutions for parents wishing to get their children testing by nasal swab — from reassurance to bringing stuffed animals for emotional support — the idea of their child enduring such an irritating experience has caused many parents and patients to seek out a less invasive collection procedure or avoid being tested altogether.5
Allowing patients to self-collect nasal swabs can provide a sense of comfort and control. However, this approach comes with risks because patients can injure themselves or compromise the sample. Nose bleeding, retained foreign body, cerebrospinal fluid leak, and infection are all documented complications of nasal SARS-CoV-2 testing, although the former two are far more common than the latter two.8 Additionally, if self-collection instructions are unclear, patients can accidentally place swabs into the transport medium prior and then into their nose where the reagent may be harmful. Oral swabs and shallow nasal swabs, on the other hand, can be self-administered with fewer complications generally. These self-collected swabs may help to increase the bandwidth of testing for COVID-19.
For swab-based COVID-19 testing and other pathogen surveillance applications, safety and ease-of-use can be achieved through SafeCollect Swab Collection Kits. By containing DNA/RNA Shield, a DNA/RNA stabilization reagent, under a safety seal, this swab collection device minimizes user error and allows for unsupervised collection of both oral and shallow nasal swabs. After sample collection, the swab is plunged through the safety seal into the stabilization reagent; at this point, the sample can be stored at ambient temperatures kept at room temperature for up to 30 days. Customizable user instructions can also be created by Zymo Research for better compliance in unsupervised collection settings. With direct US-based manufacturing, production capacity can be customized for each order request, ensuring access to medical equipment regardless of global supply shortages.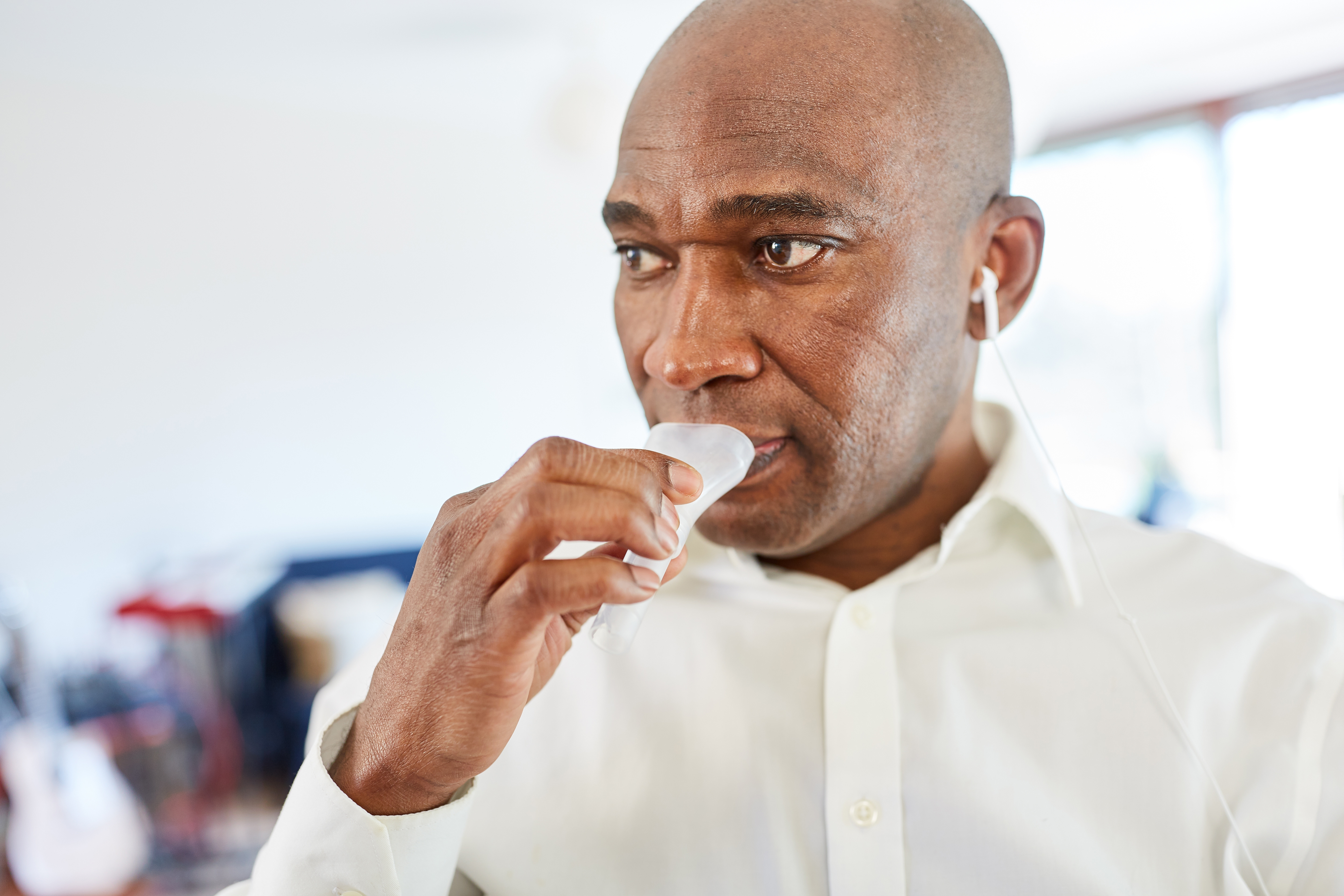 Considerations for Using Saliva-Based COVID-19 Tests
For many, the most notable difference between saliva and swab-based sampling is the sample collection experience. By replacing invasive swabs with drooling in a tube, saliva-based sampling allows for effortless collection minus the nose bleeds and stuffed support animals.
With saliva-based collecting methods, patient care and satisfaction come first. The non-invasive procedure can be done unsupervised, resulting in higher compliance. Most saliva collection devices involve drooling or salivating saliva into a tube up to a fill line. In addition to being pain-free, saliva-based sampling is easier and safer than a nasal swab, making the method an attractive alternative for school testing programs, targeting a critical age group for pandemic surveillance.9 With saliva testing gaining FDA Emergency Use Authorization (EUA) and clearance from the CDC, is this alternative really as accurate and sensitive as swabs?
Multiple systematic analyses have compiled data from around the world comparing the accuracy and efficacy of saliva-based swab-based methods for the detection and diagnosis of SARS-CoV-2. Many have found that there is no significant difference between the two collection types, suggesting that saliva specimens may be preferred over nasal swabs due to their convenience and simplicity.9-14
One meta-analysis compared the sensitivity and cost of swab and saliva-based testing. Not only did the researchers find comparable sensitivities between both methods for detection of SARS-CoV-2, but they estimated that collection of saliva-based samples instead of nasopharyngeal swabs would save an average $6.36 for every person tested.15 That figure quickly adds up in a pandemic where hundreds of thousands to millions of tests are administered daily.16
Choosing the Right Saliva Collection Device
When determining the best saliva collection device for your specific application, several design characteristics and features should be considered. First, you can eliminate the need for cold storage and shipping by choosing a collection device that uses a nucleic acid stabilization reagent. Such devices not only minimize shipping and transportation costs but remove the chance of sample integrity loss from compromised storage conditions. Additionally, having a collection device with a stabilization solution already housed within ensures the highest quality of saliva is obtained and preserved from its immediate collection time until it's tested. Finally, with at-home and unsupervised sample collection becoming increasingly common, saliva collection devices must be user-friendly and prioritize not only safety but consistent sampling as well.
The foolproof design of Zymo Research's SafeCollect Saliva Collection Kit has several features that make for safe and streamlined saliva sample collection:
An easy-to-use collection funnel that simplifies the saliva sampling process
DNA/RNA Shield, a reagent that simultaneously inactivates pathogens and stabilizes nucleic acids in saliva for up to 30 days at ambient temperature
A safety seal that separates the your saliva sample from the DNA/RNA Shield reagent and unites the two only when the cap pierces the seal upon tightening
Fully customizable user-instructions can be designed and manufactured by our team to specifically fit your application needs, guaranteeing absolute transparency and consistency in your sample collecting process.
Swabs or saliva, Zymo Research's products utilize a US-based manufacturer who directly controls their own supply chain, protecting its production capacity against shortages and guaranteeing fulfillment across all orders.
LEARN MORE ABOUT ZYMO RESEARCH'S SALIVA AND SWAB COLLECTION DEVICES MENTIONED IN THIS BLOG:
Learn More