Human Methylated & Non-methylated DNA Set
D5014-1 / D5014-2 / D5014
Human Methylated & Non-methylated DNA Set
| Cat # | Name | Size | Price | Quantity |
| --- | --- | --- | --- | --- |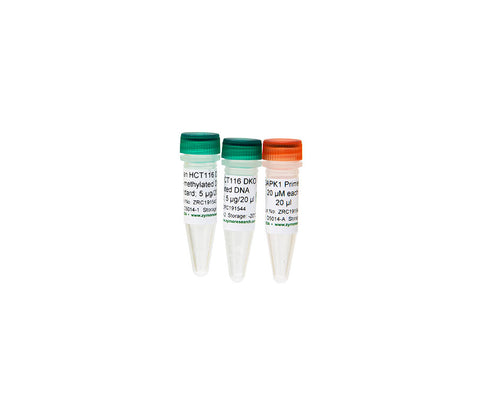 Highlights
---
Purified, non-methylated and methylated human DNA for use as negative and positive controls in methylation detection applications. Standards can be assayed in parallel with samples to monitor bisulfite conversion efficiency.
Ideal controls for bisulfite sequencing PCR (BSP) and methylation specific PCR (MSP).
Each standard is provided with a primer set to amplify a fragment of DNA after bisulfite conversion
Description
---
The Human Methylated & Non-methylated DNA Set consists of two DNA controls (a CpG-methylated human DNA standard and a non-methylated human DNA standard), with a set of specifically designed primers that can be used in conjunction with the EZ DNA Methylation family of products. This DNA set can be included as a positive and negative control to assess the efficiency of bisulfite conversion of DNA. The non-methylated human DNA is purified from the HCT116 DKO cell line, which contains genetic knockouts of both DNA methyltransferases DNMT1 (-/-) and DNMT3b (-/-). The methylated DNA standard is purified HCT116 DKO DNA that has been enzymatically methylated at CpG sites.
---
| | |
| --- | --- |
| Concentration | 250 ng/µl |
| Format | Purified genomic DNA |
| Storage | ≤ -20°C |
| Supplemental Info | |
---
Q1: What is the difference between D5013 and D5014?
D5014 is comprised of genomic DNA isolated from a HCT116 DKO cell line. The D5013 standard is comprised of the same HCT116 DKO DNA but has undergone whole genome amplification (WGA). D5013 may be more suitable for researchers working with WGA experimental samples. As a result of the WGA process, any residual methylation marks are removed from the unmethylated WGA standard (D5013-1), resulting in ultra-low methylation levels.
Q2: What assays can the standards be used for? How do you use these standards?
These standards can be adapted to many assay types. In addition to BSP and MSP, these standards can serve as controls in bisulfite library preparation and methylation arrays. For more detailed information, please visit our page on Controls For DNA Methylation Assays.
Q3: I am using the non-methylated DNA standard but observing methylation level above 5%. Why is that?
The HCT116 DKO cell line used to produce our non-methylated DNA standard has a global methylation level of less than 5%. However, a certain degree of methylation is required for cell survival. Therefore, in targeted methylation analyses, methylation levels above the expected 5% may be observed in a small portion of genomic regions.
Q4: How can these standards be used to assess bisulfite conversion efficiency?
In experimental samples with unknown methylation patterns, it may be difficult to determine if cytosines remaining after bisulfite conversion are the result of non-CpG methylation, or inefficient conversion. Because DNA standards are known to have very low non-CpG methylation, these can be run in parallel as controls to assess the efficiency of the conversion reaction.
Q5: What is the primer set that is provided with the DNA standards? How do I use them?
These standards are included with primers targeting death associated protein kinase 1 (DAPK1), and will amplify non-methylated, methylated, and mixed methylated templates. By amplifying bisulfite converted DNA with the included primers, researchers can test and optimize their bisulfite PCR conditions.
Q6: What polymerase do you suggest I use with these standards?
We recommend ZymoTaq DNA Polymerase, a hot start Taq polymerase specifically designed to amplify bisulfite converted DNA. Another hot start DNA polymerase of choice may also be used.
Q7: Can I use this as a control for NGS bisulfite library preparation?
These standards can be used for optimizing bisulfite library preparation, and it can be used as a positive control to ensure the library prep reagents are working optimally. However, if the desire is to assess bisulfite conversion rate, it is best to use E. coli Non-methylated Genomic DNA (Catalog No. D5016) as an in situ control. Contact technical support tech@zymoresearch.com for additional information.
Q8: What is the stability of the standards?
The standards are stable at ≤ -20°C for up to 24 months. For long term storage standards should be stored at ≤ -70°C.