Highly-Sensitive
100% detection of as little as 15 copies/reaction
Ready-to-Go Master Mix
< 7 min setup, just add RNA
High-Throughput Compatible
with only 3 simple steps
Highly-Sensitive
100% Detection of as little as 15 copies/reaction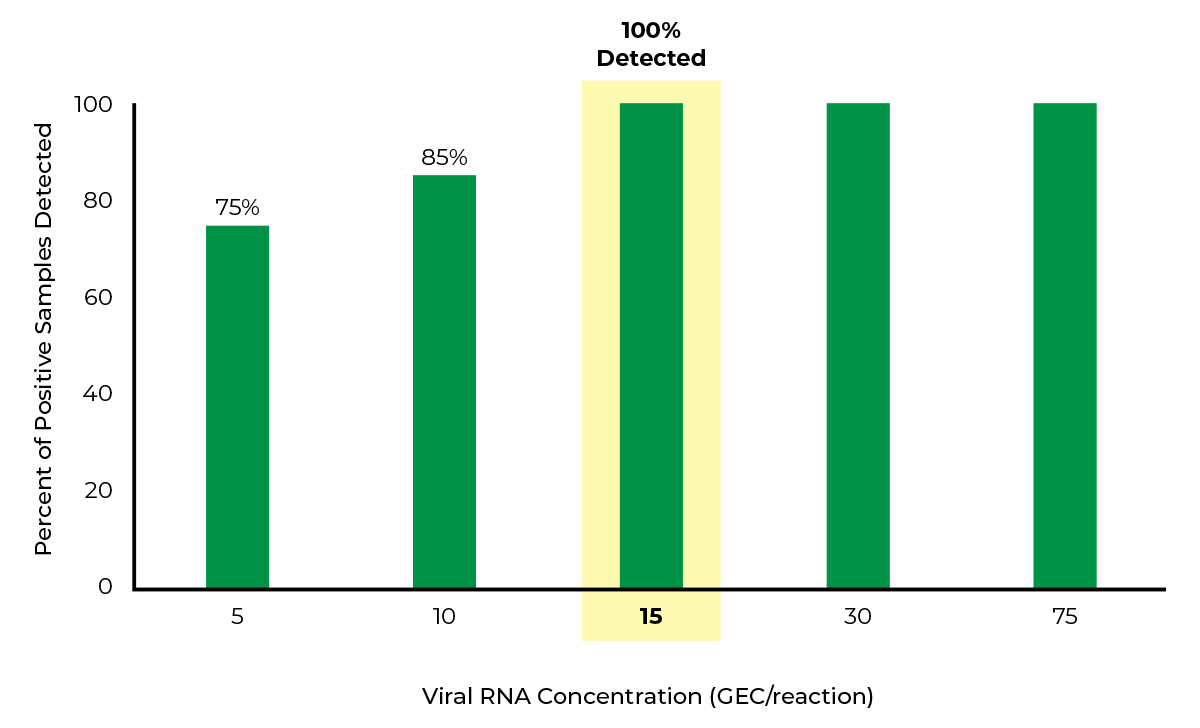 The Quick SARS-CoV-2 rRT-PCR limit of detection (LOD) is as little as 15 genome equivalent copies per reaction (GEC/reaction) or 250 GEC per milliliter of specimen, for manual and automated rRT-PCR setup. Samples with concentrations of 5 and 10 copies/reaction have 75 and 85 percent of detection, respectively.
Ready-to-Go Master Mix
Just Add RNA
High-Throughput Workflow
With 3 Simple Steps

The FDA EUA Authorized end-to-end workflow - Quick SARS-CoV-2 rRT PCR Kit, includes Zymo Research's innovative technologies below:
Intended use of the products mentioned in the graphic above may vary. For specific intended use statements please refer to the instructions for use.
Authorized laboratories using the Quick SARS-CoV-2 rRT-PCR Kit must run the assay as outlined in the Instructions for Use. Deviations from the FDA authorized procedures, including the authorized instruments, authorized extraction methods, authorized clinical specimen types, authorized control materials, authorized other ancillary reagents and authorized materials required to perform the Quick SARS-CoV-2 rRT-PCR Kit are not permitted.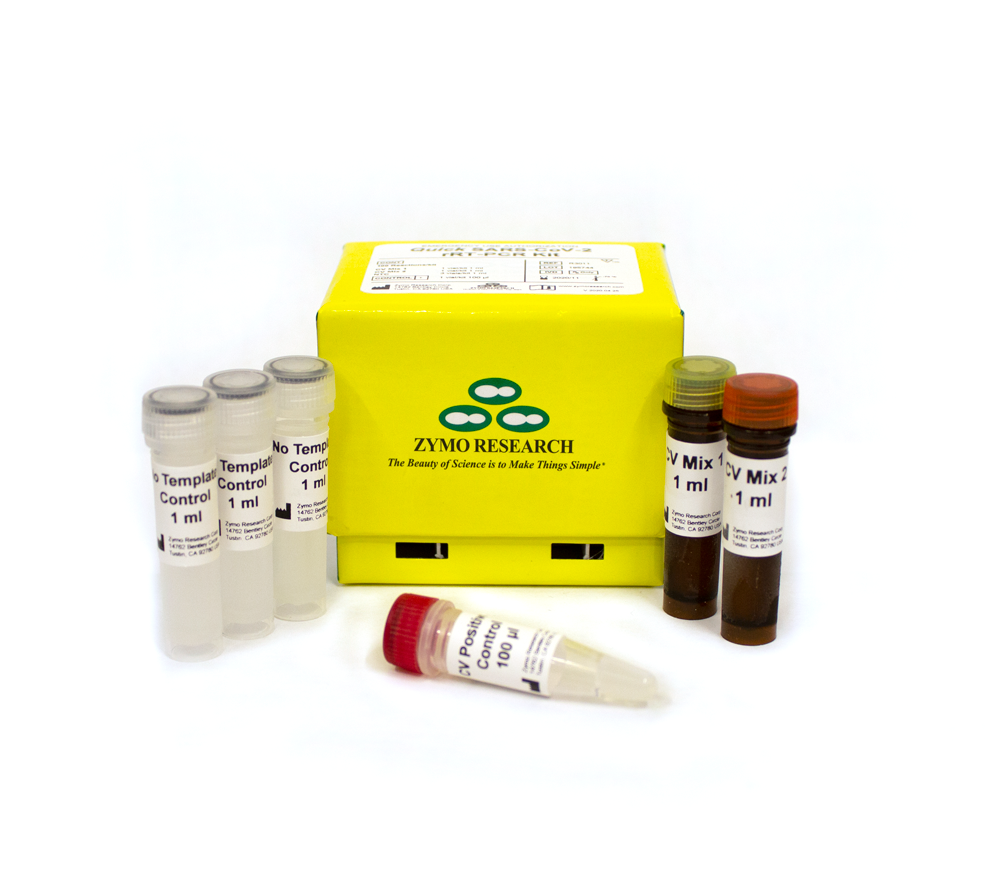 Quick SARS-CoV-2 rRT-PCR Specifications
The Quick SARS-CoV-2 rRT-PCR Kit is a real-time reverse transcription PCR (rRT-PCR) test designed to detect three RNA regions from nucleocapsid (N) gene of the severe acute respiratory syndrome coronavirus 2 (SARS-CoV-2) which is responsible for the coronavirus disease (COVID-19). The test also detects one host-specific region (human RNase P gene) to assess sample quality. To control for the quality of the rRT-PCR run, the kit includes a CV Positive Control and No Template Control.
The input material for the Quick SARS-CoV-2 rRT-PCR kit is pure RNA from clinical sources such as upper and lower respiratory specimens.
The Quick SARS-CoV-2 rRT-PCR Kit has a Limit of Detection of 15 viral genomic copies/reaction, a ready-to-use master mix and a simple 3-step workflow with < 7 minutes hands-on.
The kit is compatible with Real-Time PCR instruments able to detect the fluorescent dyes HEX™ and Quasar® 670/Cy® 5.
If you need assistance setting up or interpreting data, technical support is available to answer your questions at tech@zymoresearch.com.