ZymoBIOMICS 96 MagBead DNA Kit
D4302 / D4306 / D4308 / D4302-E / D4306-E / D4308-E
ZymoBIOMICS 96 MagBead DNA Kit
| Cat # | Name | Size | Price | Quantity |
| --- | --- | --- | --- | --- |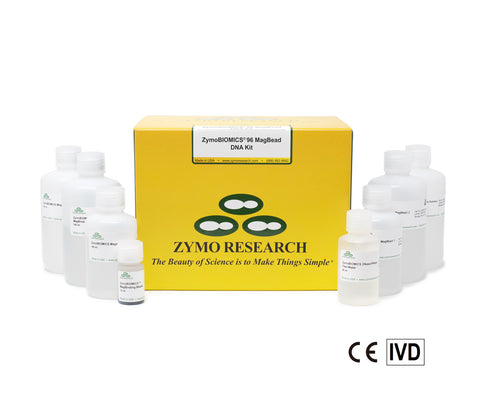 Highlights
---
High-throughput purification of high quality, inhibitor-free DNA from any sample including feces, soil, water, biofilms, swabs, saliva, and body fluids.
The ZymoBIOMICS innovative lysis system enables efficient and unbiased lysis of microbes including Gram-positive/negative bacteria, fungi, protozoans, algae, etc.
The automation friendly workflow enables nearly any sample to be processed in as little as 90 minutes for 96 preps.
Description
---
The ZymoBIOMICS DNA Kits are microbial DNA purification kits designed for purifying DNA from a variety of sample inputs that is immediately ready for microbiome or metagenome analyses. The ZymoBIOMICS lysis system eliminates bias associated with unequal lysis efficiencies of different organisms (e.g. Gram-negative/positive bacteria, fungus, protozoans, and algae), making it ideal for microbial community profiling. Uniform mechanical lysis of all microbes is achieved by bead beating with the innovative ultra-high density BashingBeads. This kit is equipped with our OneStep PCR Inhibitor removal technology, enabling PCR amplification from DNA derived from inhibitor-rich environmental samples. Purified DNA is ideal for all downstream applications including PCR, arrays, 16S rRNA gene sequencing, and shotgun sequencing. DNA Size is 15-20 kb.
For automation scripts and support, email automation@zymoresearch.com
---
| | |
| --- | --- |
| Applicable For | All sensitive downstream applications such as qPCR and Next-Generation Sequencing. |
| Elution Volume | ≥ 37.5 µl DNA Elution Buffer or DNase free water |
| Equipment | Centrifuge fitted with a 96 well microplate carrier, 96 Well Magnetic Stand, Liquid handler or other robotic sample processor, 96 well plate heat block |
| Processing Volume | Fecal ≤100 mg, Soil ≤ 200 mg, Cells ≤ 20 mg (Approximately equal to 2x108 bacterial, 2x107 yeast, or 2x106 mammalian cells) |
| Purity | High quality, inhibitor-free DNA is eluted with ZymoBIOMICS DNase/RNase Free Water and is suitable for all downstream applications including PCR and Next-Generation sequencing |
| Sample Source | Bacterial, fungal, protozoan, algae, viral, mitochondrial, and host DNA is efficiently isolated from feces, soil, fungal/bacterial cells, biofilms and water. |
| Sample Storage | Eluted DNA should be stored at ≤ -20°C. |
| Size Range | Typically 15-20 kb post-bead beating. For optimal DNA integrity, collect samples in DNA/RNA Shield. |
| Supplemental Info | |
| Type | Total DNA |
| Yield | Up to 10 µg total DNA can be eluted into 50 µl (37.5 µl minimum) |
---
Q1: Do you have scripts available for your automated kits?
Yes, we currently have scripts for Hamilton and KingFisher, as well as support for Tecan on some systems. Please contact product specialist for specific inquiries.
Q2: Do you provide scripting support for your automated kits?
Yes, our protocol includes an "automation guide" for users to script the protocol themselves and our technical support staff also provides troubleshooting and advice if needed.
Q3: **Why do I have low yield and/or low purity?
Check sample type and input amount. Low biomass samples such as swabs, some soil samples, water, air are expected to have low yield. High biomass samples such as feces may cause overloading of the spin column. Using less input may improve yields.

Ensure sample is fully homogenized. Depending on bead beater used, the settings may have to be optimized for each sample. The homogenization time may be extended to see if yields improve.

Apply heated elution buffer (60-70° C) and allow elution buffer to incubate on the column for several minutes prior to elution.

Ensure that the DNA Elution Buffer is added directly to the column matrix.

Low A260/230 values can be due to handling issues (e.g. transfer of column during wash steps). To minimize reagent wash buffer carryover, centrifuge the column at max speed for 1 minute prior to elution.
---
Cat #
Name
Size
Price
D4302-3-100
ZymoBIOMICS MagWash 1
100 ml
$60.50
D4300-1-150
ZymoBIOMICS Lysis Solution
150 ml
$104.50
D4302-4-200
ZymoBIOMICS MagWash 2
200 ml
$82.50
D4302-5-50
ZymoBIOMICS DNase/RNase Free Water
50 ml
$107.80
D4302-6-12
ZymoBIOMICS MagBinding Beads
12 ml
$198.00
S6012-50
ZR BashingBead Lysis Tubes (0.1 & 0.5 mm)
50 Tubes
$111.10
S6002-96-3
ZR-96 BashingBead Lysis Rack
0.5 mm & 0.1 mm
$211.20