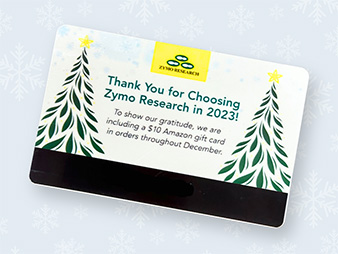 Thank You for Choosing Zymo Research in 2023!
Here's our gift to you! Please enjoy an Amazon gift card with orders throughout December
We want to express our gratitude for choosing us in 2023! To show our appreciation, we are including a $10 Amazon gift card with every order over $100 throughout December.
Terms & Conditions:
This promotion applies to qualified Direct U.S. customers only and is valid while supplies last. Promotion ends December 31, 2023. Promotion only applies to orders with inventory items. Other restrictions may apply. Distributors, stockrooms, and other partners may reach out to their point of contact regarding participation and eligibility for this promotion. This offer is invalid at institutions where acceptance of this promotion is prohibited.