COVID-19 Efforts & Partnerships
This page is updated to reflect current developments regarding Zymo Research's involvement in the fight against COVID-19.
*This page was last updated August 19, 2020.
August 19, 2020
Zymo Research announced that it was granted the CE IVD Mark for its Quick SARS-CoV-2 rRT-PCR Kit. Unlike many other molecular COVID-19 tests, the Quick SARS-CoV-2 rRT-PCR Kit includes ready-to-use reaction mixtures, thus reducing hands-on time and eliminating human errors during the set-up process. In addition, the test is fast and results are generated in less than 1.5 hours. Read the press release to learn more about the Quick SARS-CoV-2 rRT-PCR Kit's CE IVD certification here.
July 28, 2020
California laboratories can now rapidly report COVID-19 test data to the California Reportable Disease Information Exchange (CalREDIE) using Zymo Research's new, free, open-source program.
The Zymo Research Transmit Program (ZRTP) streamlines the configuration and uploading of data while eliminating errors and delays common to manual submission, incompatible systems, and outdated technology.
Read the press release to learn more about how the ZRTP simplifies and streamlines the reporting process, and about the labs already using it.
July 13, 2020
Drive-through COVID-19 testing is made available to all employees and residents of the City of Irvine through a new testing program. The program uses Zymo Research's FDA EUA COVID-19 Workflow which allows quick processing, with results expected back within three days of specimen collection. Read more about the success of the testing program here.
June 9, 2020:
Zymo Research's manufacturing team is hard at work getting products shipped out to scientists working on COVID-19 testing and research.
June 1, 2020:
Zymo Research's donation to Seeding Labs from the Color for Charity campaign helped supports scientists in developing countries working on the front lines of public health, like Dr. Arsen Arakelyan in Armenia (pictured). As director of the Institute of Molecular Biology, Dr. Arakelyan and colleagues pivoted from their research to manufacture COVID-19 diagnostic tests and allow Armenia to rapidly increase its testing capacity--saving lives and money. Read more here.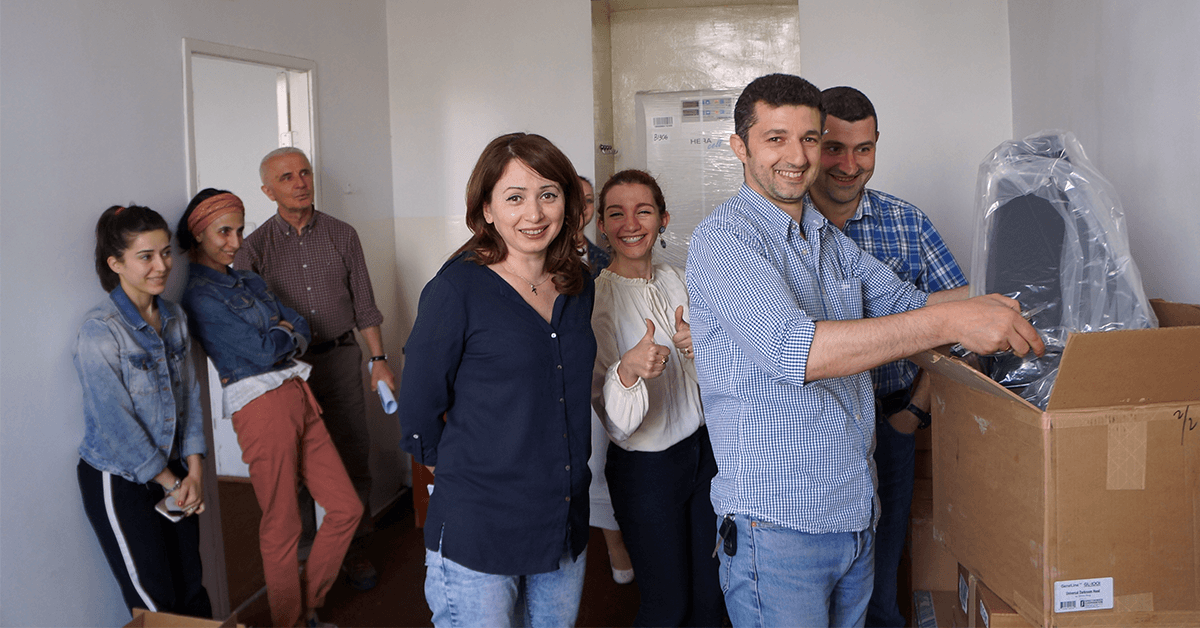 May 12, 2020:
The US Food and Drug Administration has approved Zymo Research's Quick SARS-CoV-2 rRT-PCR Kit (R3011) for Emergency Use Authorization (EUA) for the detection of SARS-CoV-2. Read the full press release here.
May 6, 2020:
Zymo Research partnered with Seeding Labs on a new Color for Charity campaign that will help provide resources for talented scientists in developing countries in the face of COVID-19. Through May 22nd, several new coloring pages created by a variety of artists will be available to download and color each week. For each coloring page downloaded, Zymo Research will donate $25 to Seeding Labs, up to a goal of $5,000. Learn more about the Color for Charity campaign here.
April 30, 2020:
Kron Cientifica e Industrial, S.A. shares a joyful moment of Zymo Research's much-needed RNA extraction kits being delivered in Central America, stating, "Today, we did not just deliver RNA extraction kits, we delivered hope, optimism, and joy. And it is just the beginning."
Hamilton and Zymo Research released a jointly automated solution for extracting DNA/RNA from the novel coronavirus. The pre-programmed and pre-configured workstation and streamlined magnetic bead-based protocol will allow users to quickly scale COVID-19 sample extraction and purification. Read the full press release here.
April 28, 2020:
A blog post from Quartzy keeps up with Zymo Research and other biotechnology companies that immediately shifted priorities and resources to COVID-19 testing and relief at the start of the pandemic. Read about their current efforts here.
An Application Specialist at Zymo Research explains how the company is helping with COVID-19 testing efforts and how their sample collection technology is making specimens safer to handle while preserving the virus's signature for testing laboratories. Read the CSUF article here.
April 24, 2020:
In a Q&A with Opentrons, a Specialist at Zymo Research discusses the company's efforts in fighting the COVID-19 pandemic and how their coronavirus detection project is helping healthcare providers, researchers and patients. Read the full article here.
April 23, 2020:
Opentrons Labworks, Inc, makers of affordable and easy-to-use lab robotics, have partnered with Zymo Research to offer a streamlined automated platform for COVID-19 testing. The automated RNA extraction pipeline will serve as the foundation for any lab seeking to perform high-sensitivity SARS-CoV-2 testing. Read the full press release here.
Curative and KorvaLabs partner to set up a designated COVID-19 lab in less than one month and have received Emergency Use Authorization from the US Food and Drug Administration for a lab-developed test. The test uses Zymo Research's stabilizing media, DNA/RNA Shield, to store and transport samples at room temperature. Read the full article here.
April 17, 2020:
A Nature Methods article details the collective efforts and contributions from various labs as they work to thwart SARS-CoV-2. Insight from an Application Specialist at Zymo Research touches on the company's culture and efforts in response to the COVID-19 pandemic while offering hope for future generations of scientists.
April 6, 2020
Zymo Research is grateful for all of the #UnitedAgainstCOVID19 entries over the past 15 days, and wants to thank all who participated for their effort to promote #socialdistancing. There were many touching entries and stories from those on the frontlines and those with family members in medical professions who are combatting this virus firsthand. To show our gratitude to the brave healthcare providers in this fight, the final 3 days of the movement were reserved for healthcare professionals on the frontlines of the pandemic who shared firsthand stories promoting the importance of social distancing. In total, $7,500 was given away to promote social distancing, including $2,000 directly to healthcare workers.
There were touching stories from those on the frontlines, as well as creativity from others as they practice social distancing at home.
My brave mom has been on the frontlines of screening patients for COVID-19 in Houston, Texas as a family practitioner. She volunteered to do so since she only lives with my dad. She is a proud #Chinese immigrant serving her community and she is my hero. pic.twitter.com/xTIo9vu6DX

— Elaine Shen (@elaineshen_) March 23, 2020
Here's a pic of my family practicing #socialdistancing: my dad has been quarantining himself from my mom because he's a healthcare provider who's put at risk every day and my mom is immunocompromised b/c she recently completed cancer treatment #UnitedAgainstCOVID19 @ZymoResearch pic.twitter.com/yPGTWhulVY

— Rachel Lee (@LRmlee11) March 27, 2020
And the collection grows...by the end of all of this I'm going to have crocheted the entire lab 😳 #UnitedAgainstCOVID19 pic.twitter.com/HxRRefP3jD

— Erin Borbee (@ErinBorbee) March 29, 2020
March 31, 2020:
Zymo Research has partnered with Tecan to launch a ready-to-go processing solution to streamline SARS-CoV-2 testing with the DreamPrep NAP workstation. The automated platform comes with pre-loaded scripts for the Quick-DNA/RNA Viral MagBead Kit that allow labs to rapidly implement and scale high-throughput COVID-19 workflows to better enable the scientific community in fighting the virus. Read the full press release here.
March 23, 2020:
Zymo Research Corp. has responded to the demand for RNA extraction kits by increasing production of the Quick-DNA/RNA Viral MagBead Kit. This kit facilitates high-throughput extraction of SARS-CoV-2 viral RNA from 96 swab and saliva samples in 1-2 hours on industry-leading automated platforms, including Tecan, Hamilton, Thermo Scientific KingFisher, and others. Read the full press release here.
March 20, 2020:
Zymo Research partners with Aperiomics to provide state-of-the-art sample collection and RNA extraction reagents for their COVID-19 test. Read the full press release here.
Zymo Research sponsors national movement to promote social distancing, encouraging users on social media to spread awareness by using the hashtag #UnitedAgainstCOVID19. Each day, one participant will is randomly chosen to receive $500 through 4/3/2020.
Extraction kits, test kits and a vaccine are only part of the solution when it comes to ending the #COVID19 pandemic. The best chance we have of winning the war against this virus is to stand united, and hold one another accountable for #socialdistancing to reduce risk of (1/6)

— Zymo Research (@ZymoResearch) March 21, 2020
March 18, 2020:
A Washington Post article details Zymo Research's latest efforts to make COVID-19 testing available to everyone, as they work with collaborators, government officials and other companies to provide at-home testing.
March 11, 2020:
Zymo Research responds to lack of reagent resources for COVID-19 by providing products for sample collection and viral extraction. Read on to find out more about these efforts…. found here.
Zymo Research responds to clinical RNA extraction kit shortage, and has a dedicated team ready to help those affected or working on COVID-19.
Labs are facing a shortage of RNA extraction kits. Zymo Research currently has RNA extraction kits available for researchers working on coronavirus testing. Please do not hesitate to contact us for assistance, we are ready to help.

Inquire at info@zymoresearch.com https://t.co/ZumuTRuW2R

— Zymo Research (@ZymoResearch) March 11, 2020