RNA Clean & Concentrator-25
R1017 / R1018
RNA Clean & Concentrator-25
| Cat # | Name | Size | Price | Quantity |
| --- | --- | --- | --- | --- |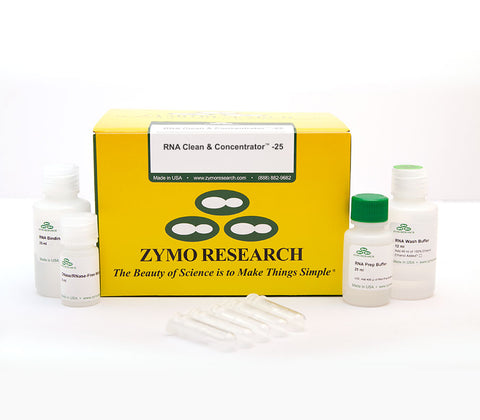 Highlights
---
NGS-Ready: RNA is ready for all downstream applications including Next-Gen Sequencing, RT-qPCR, hybridization, etc.
Ultra-Pure: Eliminate contaminants and inhibitors in 5 minutes.
Maximum Recovery: Recover >90% and elute in as little as 25 μl.
Description
---
The RNA Clean & Concentrator-25 kits are RNA clean up kits that provide a simple and reliable method for the rapid preparation of high-quality, RT-PCR-ready RNA. This simple procedure is based on the use of a unique single-buffer system and Zymo-Spin column technology that allows for selective recovery of total RNA (> 17 nt), large RNAs (> 200 nt), and/or small RNAs (17-200 nt). The procedure is easy: Add binding buffer and ethanol to your sample, then bind, wash and elute ultra pure RNA. The RNA can be eluted from the Zymo-Spin IICR Column in as little as ≥ 25 µl of RNase-free water. The highly-concentrated, purified RNA is suitable for all subsequent analyses and molecular manipulations.

Learn More
---
| | |
| --- | --- |
| Equipment | Microcentrifuge |
| Format | Spin-Column |
| Purity | RNA is ready for Next-Gen sequencing, RT-PCR, microarray, hybridization, etc. A260/A280, A260/A230: > 1.8. |
| Sample Source | DNase I treated RNA, in vitro transcription products, the aqueous phase following TRIzol/chloroform or similar extraction |
| Size Range | Total RNA ≥ 17 nt |
| Supplemental Info | |
| Yield | 50 µg RNA (binding capacity), ≥ 25 µl (elution volume) |
---
Q1: Can the RCC kit be used to purify DNA (cDNA)?
Yes. The kit efficiently recovers all types of nucleic acids.
Q2: Should carrier RNA be added to the sample prior to purification?
Carrier RNA can be added with no detrimental effects. The RCC is highly efficient without the need for carrier RNA, and no significant improvement in recovery has been observed with carrier RNA.
Q3: Will this kit remove fluorescent dyes, radiolabeled dNTP's and/or Biotin?
Yes, the kit efficiently removes unincorporated fluorescent dyes, radiolabeled dNTP's and Biotin.
Q4: Are samples containing high concentration of detergents, salts, formamide or sucrose compatible with the RCC buffer system?
Product Tolerance Reference: – ≤5% Triton X-100 – ≤5% Tween-20 – ≤5% Sarkosyl – ≤0.1% SDS – ≤90% formamide – Sucrose samples should be diluted/titrated down 10- to 100- fold.
Q5: Can other DNase I enzymes or sets (e.g. Qiagen DNase I) be used?
Yes, follow respective protocol for on-column DNase treatment. If the DNase does not have a protocol, proceed with in-tube DNase treatment post clean-up, then re-purify.
Q6: Is DNase I treatment necessary?
If the downstream application requires DNA-free RNA, we would recommend performing in-column or in-tube DNase I treatment.
---
"Great for purifying small amounts of RNA. I use a bioanalyzer after and I can see the difference from before, cleaner bands and the concentration increases with a smaller amount of elutant."
- Catherine A. (USAMRIID)
"Kit was easy and fast, and cleaned up my RNA samples very well. It did exactly what I needed it to do."
- Caroline S. (Cornell University)
"The product is very easy to use, very quick protocol for an excellent RNA clean up. It also purifies small RNA which is not the case of all RNA clean up columns."
- Agnes N. (Biofidal)
Read More
---
Cat #
Name
Size
Price
R1013-2-25
RNA Binding Buffer
25 ml
$53.90
R1013-2-50
RNA Binding Buffer
50 ml
$82.50
R1003-3-6
RNA Wash Buffer
6 ml
$19.80
R1003-3-24
RNA Wash Buffer
24 ml
$64.90
R1003-3-12
RNA Wash Buffer
12 ml
$33.00
C1001-50
Collection Tubes
50 Pack
$16.50
R1060-2-25
RNA Prep Buffer
25 ml
$44.00
C1011-50
Zymo-Spin IIC Columns
50 Pack
$60.50
W1001-10
DNase/RNase-Free Water
10 ml
$20.90
W1001-6
DNase/RNase-Free Water
6 ml
$16.50