Zymo Research CEO to be Interviewed on Worldwide Business with Kathy Ireland®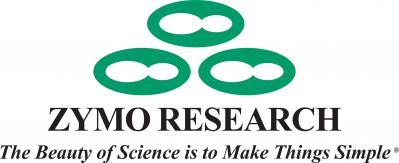 IRVINE, Calif. July 7, 2017 PRNewswire - Dr.Larry Jia, Founder and CEO of Zymo Research Corp., will make a guest appearance on Worldwide Business with Kathy Ireland®, an award winning business and health program. Dr. Jia will be speaking about epigenetics and aging. The interview will air on Sunday, July 9, 2017, as sponsored programming, on the, Fox Business Network at 5:30 pm EDT as well as internationally to over 50 countries on Bloomberg International.
Epigenetics may hold important keys to understanding a myriad of diseases and disorders, such as cancer, autism, Alzheimer's, and addictions. Dr. Jia will be discussing Zymo Research's epigenetic clock technology; a groundbreaking tool that could provide profound insight on how biological aging is assessed.In October 2016, Zymo Research announced it had obtained an exclusive license for a methylation age predictor, also known as Horvath's Clock, so named for Dr. Steve Horvath, a professor of human genetics and biostatistics at the David Geffen School of Medicine at UCLA and Fielding School of Public Health , who is the developer of the epigenetic clock. Zymo Research has developed a new service that will be offered to consumers, which will allow them to compare their epigenetic age to their chronological age.
Dr. Jia noted, "We are excited to share information about this new service we are offering. The epigenetic clock can be used in a broad range of research, such as cancer or stem cell, to offer researchers valuable insights about the biological age of tissues and cell types. We have extended this service to consumers who can determine their biological age, which can reveal a great deal about general health and the rate of aging."
Dr. Jia served as Deputy Chairman, Department of Hepatitis Viruses, Institute of Virology, at the Chinese Academy of Medical Science until 1989 prior to moving to the US. Besides many original contributions in virology, his discovery of the West Nile Virus in North America in 1999 highlights the direct impact his research has had on public health. Dr. Jia founded Zymo Research Corp. in 1994 and has acted as President and CEO. Under his leadership, Zymo Research Corp. has become a globally recognized leader in epigenetics and other emerging fields of aging research.
For more information about Zymo Research's products, go to Zymo Research's website or email info@zymoresearch.com.
About Zymo Research Corp.
Zymo Research Corp., also known as "The Epigenetics Company", is a privately held company based in Irvine, California, US. Since its inception in 1994, it has been serving the academic and biopharmaceutical scientific communities by providing DNA and RNA purification products. Zymo Research was an early adopter in the field of epigenetics and offers a line of products used in DNA methylation detection and quantitation. In addition to the epigenetic and nucleic acid purification products, Zymo also provides genetic, epigenetic and transcriptome analysis services. For more information, please visit www.zymoresearch.com/epigenetics. Follow Zymo Research Corp. on Facebook , LinkedIn, Twitter, and Instagram.
Trademarks:
All trademarks are the property of their respective owners. Zymo Research Corp., the stylized logo, and the tagline "The Beauty of Science is to Make Things Simple" are trademarks of Zymo Research Corp. and are registered with the USPTO.