Zymo Research Launches FFPE DNA and RNA Purification Kits at AACR 2016
Introduce the newest in its line of FFPE kits, Quick-DNA™ FFPE Kit and Quick-RNA™ FFPE Kit, for DNA and RNA purification.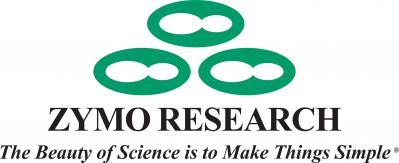 NEW ORLEANS, April 18, 2016 PRNewswire - Zymo Research Corporation will introduce the newest in its line of FFPE kits, Quick-DNA FFPE Kit and Quick-RNA™ FFPE Kit, for DNA and RNA purification during the AACR 2016 Annual Meeting. These kits provide a simple and reliable method for isolating total nucleic acids (DNA, RNA, including small DNA and RNA species) from Formalin-fixed Paraffin embedded (FFPE) samples.
Historically, purification from FFPE samples has been a challenging endeavor due to inefficient reversal of the fixation process, which often contributes to DNA and RNA degradation affecting downstream applications. The severity of wasting these samples due to poor yield is even greater, considering many samples are from archived sources which are often irreplaceable. The FFPE RNA kit from Zymo Research yields high-quality RNA that performs significantly better in comparative RT-PCR when tested against available FFPE kits. In the same test, RNA isolated from Zymo Research's kit not only amplified three cycles earlier but also provided a greater total yield. The FFPE kits utilize non-organic (non-toxic) deparafinization and include DNase I in every FFPE RNA Kit. DNA and RNA can also be co-purified, if desired.
"FFPE samples hold the key to unlocking many secrets that would advance our knowledge in oncology and personalized medicine," said Dr. Larry Jia, CEO and founder of Zymo Research Corporation. "We are excited to release a product that has made such strides in improving the quality and recovery of nucleic acids from FFPE samples."
The FFPE kits feature optimized deparafinization/decrosslinking steps for maximum recovery of nucleic acids. Zymo Research's unique spin-column technology is utilized in these kits, enabling recovery of high-quality DNA and RNA in only 6µl of elution buffer- including small RNAs (17-200 nt) – ready for any downstream application.
About Zymo Research Corp.
Zymo Research Corp., also known as "The Epigenetics Company", is a privately held company based in Irvine, California, US. Since its inception in 1994, it has been serving the academic and biopharmaceutical scientific communities by providing DNA and RNA purification products. Zymo Research was an early adopter in the field of epigenetics and offers a line of products used in DNA methylation detection and quantitation. In addition to the epigenetic and nucleic acid purification products, Zymo also provides genetic, epigenetic and transcriptome analysis services. For more information, please visit www.zymoresearch.com/epigenetics. Follow Zymo Research Corp. on Facebook , LinkedIn, Twitter, and Instagram.