Zymo-Seq miRNA Library Kit
R3006 / R3007
Zymo-Seq miRNA Library Kit
| Cat # | Name | Size | Price | Quantity |
| --- | --- | --- | --- | --- |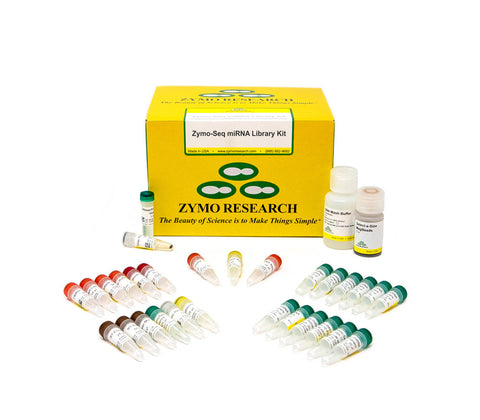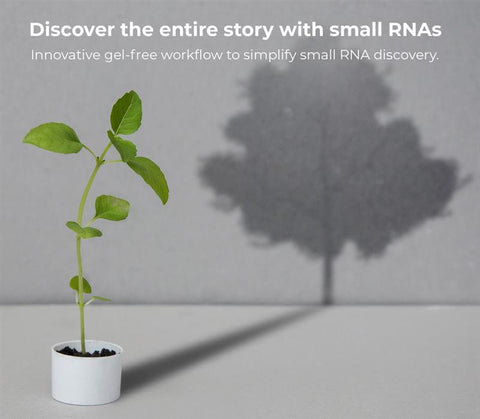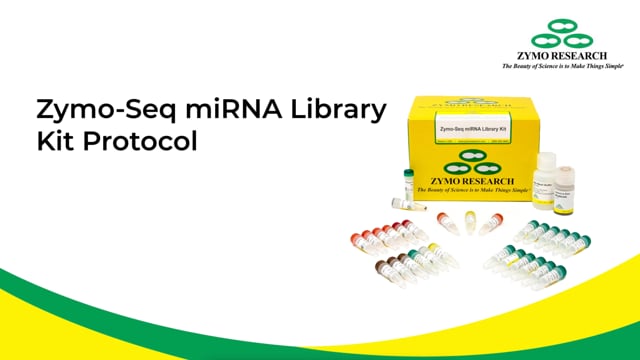 Highlights
---
Accurate miRNA profiling: A unique single adapter and circularization strategy reduces ligation bias and increases miRNA detection.
Direct detection: Generates small RNA libraries without the need for small RNA enrichment.
Gel-Free: Removes adapter dimers from any input without lengthy gel excision.
Description
---
The Zymo-Seq™ miRNA Library Kit is an innovative small RNA sequencing library prep kit that uses a single-adapter and circularization strategy to reduce ligation bias and provide accurate small RNA profiling from cell-free RNA (cfRNA) and total RNA. This simple, streamlined workflow minimizes hands-on time and uses gel-free removal of adapter dimers to generate stranded small RNA libraries from plasma, biofluids, cells, tissues, and more.
To prepare Zymo-Seq™ miRNA libraries, RNA is ligated to the single miRNA adapter and the ligated product is circularized. Excess adapter is blocked and removed with specialized magnetic beads that allow a completely gel-free workflow for input as low as 1 ng. The circularized miRNA-adapter product is then reverse transcribed. The resulting cDNA is amplified using Indexing PCR primers which add on Illumina-compatible adapter and unique dual index (UDI) sequences for cost-effective multiplexing. Everything needed to make sequencing-ready libraries, including indexing primers and SPRI beads, are included in the kit. It's RNA-Seq made simple.
---
| | |
| --- | --- |
| Additional Components Required (Not Provided) | Molecular biology grade pure ethanol (> 95%) |
| Maximum Input | 200 ng of total RNA, or RNA extracted from 200 µL of plasma or serum. |
| Minimum Input | 1 ng of total RNA, or RNA extracted from 50 µL of plasma or serum. |
| Processing Time | 2 hours hands-on, 8 hours total |
| Recommended Equipment | A 96-well Aluminum Cooler Block for PCR tubes or a 96-well PCR tube rack may be placed on ice for ease of reagent assembly and maintaining samples at 4°C. To process > 12 samples at once, a multichannel pipette with low-retention tips is recommended for mixing and the timely addition of pre-aliquoted reagents. |
| Recommended Input | 100 ng of total RNA, or RNA extracted from 200 µL of plasma or serum. |
| Required Equipment | Thermal cycler, magnetic stand for 0.2 mL PCR tubes or 96-well plate, mini centrifuge, and micro centrifuge. |
| Sample Type | High integrity total RNA (RIN > 7) containing miRNA, or cell-free RNA extracted from plasma/serum samples not preserved with heparin. Small RNA enrichment is not necessary. |
| Sequencing Platform Compatibility | Libraries are compatible with all Illumina sequencing platforms. |
---
"Easy handling, Less library prep time and less steps with Dimer removal bead"
- Dr. Ramji Bhandari from the University of North Carolina of Greensboro
"I am really happy with the kit! This experience with Zymo Kit was wonderful. Congratulations on the excellent product developed. I'm sure it will be a success. I had excellent library performance on the tests."
- Dr. Fabio Queiroz from the Instituto Mario Penna – MG/Brazil
"Stress-free. Manageable. Fast. I really love the kit. The Zymo miRNA library kit dispelled previous discouraging experiences that I had when using individual components as described by different research articles. Every step is clearly explained in the manual and in the tutorial video, thus reading through the manual / watching the tutorial video prior to small RNA library preparation is highly recommended. It made the whole process simple and easy."
- Kim Nguyen, PhD, UC Irvine
---
Cat #
Name
Size
Price
E2003
ZymoTaq PreMix
(50 Rxns.) (2 x 625 µl)
$80.30
E2004
ZymoTaq PreMix
(200 Rxns.) (8 x 625 µl)
$250.80
W1001-1
DNase/RNase-Free Water
1 ml
$11.00
W1001-4
DNase/RNase-Free Water
4 ml
$13.20
W1001-6
DNase/RNase-Free Water
6 ml
$16.50
W1001-10
DNase/RNase-Free Water
10 ml
$20.90
W1001-30
DNase/RNase-Free Water
30 ml
$24.20
D4003-2-6
DNA Wash Buffer (Concentrate)
6 ml
$11.00
D4003-2-48
DNA Wash Buffer (Concentrate)
48 ml
$66.00
D4003-2-24
DNA Wash Buffer (Concentrate)
24 ml
$36.30
D3004-4-10
DNA Elution Buffer
10 ml
$15.40
D3004-4-50
DNA Elution Buffer
50 ml
$35.20
3DP-1002
PCR Strip MagStand
1 unit
$55.00